25.1: DNA Replication
Last updated
Chapter 25.1: DNA Replication
25.1.2 DNA Replication in Prokaryotes
DNA replication has been well studied in bacteria primarily because of the small size of the genome and the mutants that are available. E. coli has 4.6 million base pairs (Mbp) in a single circular chromosome and all of it is replicated in approximately 42 minutes, starting from a single origin of replication and proceeding around the circle bidirectionally (i.e., in both directions) (Figure 25.1.3). This means that approximately 1000 nucleotides are added per second. The process is quite rapid and occurs with few errors. E. coli has a single origin of replication, called oriC, on its one chromosome. The origin of replication is approximately 245 base pairs long and is rich in adenine-thymine (AT) sequences.
Figure 25.1.3 Prokaryotic DNA Replication. Replication of DNA in prokaryotes begins at a single origin of replication, shown in the figure to the left, and proceeds in a bidirectional manner around the circular chromosome until replication is complete. The bidirectional nature of replication creates two replication forks that are actively mediating the replication process. The right hand figure shows a dynamic model of this process. The red and blue dots represent the incorporation of daughter strand nucleotides during the process of replication.
Figures from: Daniel Yuen at David Tribe Derivatives and Catherinea228
---
Overall, there is significant conformational changes in the DNA Polymerase III complex upon binding to the DNA that cause the tail of the polymerase to move from interacting with the clamp in the DNA-bound state, to a position 35 Å away from the clamp in the DNA-free state (Video 25.1.1). It has been hypothesized that this large conformational change may help the polymerase act as a switch to facilitate the lagging strand synthesis. On the lagging strand, the polymerase repositions to a newly primed site every ∼1000 bp. To do so, the polymerase needs to release both clamp and DNA. The switch-like movement of the polymerase tail may play a part in the release and consequent repositioning of the polymerase at the end of the Okazaki fragment.
Video 25.1.1 DNA Binding Induces Large Conformational Changes in the DNA Polymerase III Complex. The video shows the linear morphing of the DNA-free to the DNA-bound state showing the large conformation change between the two states. The green subunit is the β-clamp, The α-subunit is shown in orange with the active-site residues in magenta, the α-C-terminal domain (α-CTD shown in brown, the ε-subunit in yellow, and the τ-tail shown in blue.
Video from: Fernandez-Liero, R., et al. (2015) eLife 4:e11134
---
The proofreading complex is fairly similar to the polymerization complex, with small movements of individual protein components (Figure 25.1.7a,b). The most significant movements include a rotation and a tilt of duplex DNA against the plane of β2, locking the DNA against the inner surface of the β2 ring (Figure 25.1.7b). The polymerase thumb domain and ε also move towards the DNA. The thumb domain wedges between two DNA strands with unmatched base pairs, resulting in a highly distorted and frayed DNA substrate. The newly synthesized strand is therefore able to reach the nuclease active site of ε for editing. Considering that the proofreading complex is fairly similar to the polymerization complexes and duplex DNA with two unmatched base-pairs tends to fray, it is proposed that ε works passively by waiting for DNA to reach its nuclease active center when a wrong nucleotide is incorporated rather than responding actively to the misincorporation event. In a complementary single-molecule biophysical study, the clamp-bound Pol III core has been shown to be remarkably stable and processive in the proofreading mode in the absence of incoming dNTPs.
Bacterial replisomes have long been believed to be highly coordinated, highly processive machines capable of copying the whole chromosome without dissociation. Two or three polymerase cores of the same E. coli Pol III HE were believed to synthesize both DNA strands, with the lagging strand polymerase repeatedly being recycled for new Okazaki Fragment synthesis, as described above. Lagging-strand polymerase recycling has been debated to be triggered by various collision or signaling mechanisms in a well-controlled manner that likely involves the movement of the τ-tail region. However, recent studies find that bacterial polymerases also readily exchange at replication forks and that leading-strand and lagging-strand DNA synthesis may not always be tightly coupled. Figure 9.6b depicts a proposed model for this exchange.
Overall, DNA polymerase III is a highly processive enzyme incorporating 600 to 1,000 bases per second with greater that 100,000 bases incorporated per binding event, and an error rate of approximately 1 per million.
DNA polymerase I, aids in the process of lagging strand synthesis, in that, this polymerase removes the RNA primers and incorporates DNA in its place. DNA polymerase II, although not well understood, is thought to play an editing role following lagging strand synthesis by DNA polymerase I. DNA polymerases I and II also play a role in DNA repair, as do DNA polymerases IV and V.
DNA polymerase Iis similar to DNA polymerase III in that it it has 5' to 3' polymerase activity and also has 3' to 5' exonuclease activity to mediate both the processivity and the DNA proofreading function of the enzyme. In addition, DNA polymerase I also contains a large protein domain called the Klenow fragment that exhibits 5' to 3' exonuclease activity (Figure 25.1.8). The 5' to 3' exonuclease activity is responsible for removal of the RNA primers along the lagging strand. The processivity of this enzyme enables the polymerase to refill these gaps with DNA. However, DNA polymerase I is unable to connect the backbone of the newly synthesized Okazaki Fragments with the downstream fragment. The repair of gaps in the DNA backbone is mediated by a DNA ligase enzyme.
Figure 25.1.8 Structure of E. coli DNA Polymerase I. DNA polymerase I exhibits 5' to 3' polymerase activity and 3' to 5' exonuclease activity mediating the processivity and proof reading activities of the enzyme. DNA polymerase I also contains a 5' to 3' exonuclease activity housed in a special domain of the enzyme called the Klenow fragment. This domain is responsible for removing the RNA primer sequences from newly synthesized DNA. The 5' to 3' polymerase activity is then used to replace the RNA primer with DNA. The 3' to 5' exonuclease activity ensures that the correct bases are incorporated.
Figure from: Goodsell, D.S. (2015) RCSD PDB-101 Molecule of the Month
Origin usage in eukaryotes can be dynamic, with origin firing at different sites depending on cell type and developmental stage. Nevertheless, the mechanism of replisome assembly and origin firing is highly conserved. During late mitosis and G1phase, cell cycle proteins, such as Cdc6, associate with Ori sites throughout the genome and recruit the helicase enzymes, MCMs 2-7 (Figure 25.1.21A). At this time, double hexamers of the MCM2-7 complex are loaded at replication origins. This generates a pre-replication complex (pre-RC). Origins with an associated pre-RC are considered licensed for replication. Licensed replication origins can then be "fired," when replication actually initiates at the Ori. Origin firing is brought about by multiple phosphorylation events carried out by the cyclin E-CDK2 complex at the onset of S phase and by other cyclin-dependent kinases (CDKs) prior to individual origin firing (Figure 25.1.21B). Cyclin-dependent kinases (CDKs) are the families of protein kinases first discovered for their role in regulating the cell cycle. They are also involved in regulating transcription, mRNA processing, and the differentiation of nerve cells. CDKs are activited through the binding of an associated cyclin regulatory protein. Without a cyclin, CDKs exhibit little kinase activity. Following the phosphorylation of the pre-RC, origin melting occurs and DNA unwinding by the helicase generates ssDNA, exposing a template for replication (Figure 9.21C). The replisome then begins to form with the localization of replisome factors such as Cdc45. DNA synthesis begins on the melted template, and the replication machinery translocates away from the origin in a bidirectional manner.
Figure 25.1.21 MCM2-7 loads onto DNA at replication origins during G1 and unwinds DNA ahead of replicative polymerases. (A) The combined activities of Cdc6 and Cdt1 bring MCM complexes (shown as blue circles of varying shades) to replication origins. (B) CDK/DDK-dependent phosphorylation of pre-RC components leads to replisome assembly and origin firing. Cdc6 and Cdt1 are no longer required and are removed from the nucleus or degraded (C) MCMs and associated proteins (GINS and Cdc45 are shown) unwind DNA to expose template DNA. At this point replisome assembly can be completed and replication initiated. "P" indicates phosphorylation.
Figure from: Lemanm A.R. and Noguchi, E. (2013) Genes 4(1):1-32
Replication through Nucleosomes
Eukaryotic genomes are substantially more complicated than the smaller and unadorned prokaryotic genomes. Eukaryotic cells have multiple noncontiguous DNA components, chromosomes, each of which must be compacted to allow packaging within the confined space of a nucleus. As seen in chapter 4, chromosomes are packaged by wrapping ~147 nucleotides (at intervals averaging 200 nucleotides) around an octamer of histone proteins, forming the nucleosome. The histone octamer includes two copies each of histone H2A, H2B, H3, and H4. In chapter 8, it was highlighted that histone proteins are subject to a variety of post-translational modifications, including phosphorylation, acetylation, methylation, and ubiquitination that represent vital epigenetic marks. The tight association of histone proteins with DNA in nucleosomes suggests that eukaryotic cells possess proteins that are designed to remodel histones ahead of the replication fork, in order to allow smooth progression of the replisome. It is also essential to reassemble histones behind the fork to reestablish the nucleosome conformation. Furthermore, it is important to transmit the epigenetic information found on the parental nucleosomes to the daughter nucleosomes, in order to preserve the same chromatin state. In other words, the same histone modifications should be present on the daughter nucleosomes as were on the parental nucleosomes. This must all be done while doubling the amount of chromatin, which requires incorporation of newly synthesized histone proteins. This process is accomplished by histone chaperones and histone remodelers, which are discussed below (Figure 25.1.22).
Figure 25.1.22 Nucleosome displacement and deposition during DNA replication. Histones are removed from chromatin ahead of the replication fork. FACT may facilitate this process. Asf1 recruits histone H3-H4 dimers to the replication fork. CAF-1 and Rtt106 load newly synthesized (light purple) histones to establish chromatin behind the fork. Previously loaded histones (dark purple) are also deposited on both daughter DNA strands. The histone chaperones involved in these processes are associated with replisome proteins: CAF-1/Rtt106 with PCNA and FACT/Asf1 with MCMs.
Figure from: Lemanm A.R. and Noguchi, E. (2013) Genes 4(1):1-32
---
Several histone chaperones are known to be involved in replication-coupled nucleosome assembly, including the FACT complex. The FACT complex components were originally identified as proteins that greatly stimulate transcription by RNA polymerase II. In budding yeast, FACT was found to interact with DNA Pol α-primase complex, and the FACT subunits were found to interact genetically with replication factors. More recently, studies showed that FACT facilitates DNA replication in vivo and is associated with the replisome in budding yeast and human cells. The FACT complex is a heterodimer that does not hydrolyze ATP, but facilitates the "loosening" of histones in nucleosomes
Replication Fork Barriers and the Termination of Replication
In prokaryotes, such as the E. coli, bidirectional replication initiates at a single replication origin on the circular chromosome and terminates at a site approximately opposed from the origin. This replication terminator region contains DNA sequences known as Ter sites, polar replication terminators that are bound by the Tus protein. The Ter-Tus complex counteracts helicase activity, resulting in replication termination. In this way, prokaryotic replication forks pause and terminate in a predictable manner during each round of DNA replication.
In eukaryotes, the situation differs. Replication termination typically occurs by the collision of two replication forks anywhere between two active replication origins. The location of the collision can vary based on the replication rate of each of the forks and the timing of origin firing. Often, if a replication fork is stalled or collapsed at a specific site, replication of the site can be rescued when a replisome traveling in the opposite direction completes copying the region. However, there are numerous programmed replication fork barriers (RFBs) and replication "challenges" throughout the genome. To efficiently terminate or pause replication forks, some fork barriers are bound by RFB proteins in a manner analogous to E. coli Tus. In these circumstances, the replisome and the RFB proteins must specifically interact to stop replication fork progression.
25.1.5 Replication of Mitochondrial DNA
Mammalian mitochondria contain multiple copies of a circular, double-stranded DNA genome approximately 16.6 kb in length (Figure 25.1.23). The two strands of mtDNA differ in their base composition, with one being rich in guanines, making it possible to separate a heavy (H) and a light (L) strand by density centrifugation.The mtDNA contains one longer noncoding region (NCR) also referred to as the control region. In the NCR, there are promoters for polycistronic transcription, one for each mtDNA strand; the light strand promoter (LSP) and the heavy strand promoter (HSP). The NCR also harbors the origin for H-strand DNA replication (OH). A second origin for L-strand DNA replication (OL) is located outside the NCR, within a tRNA cluster.
Figure 25.1.23 Map of human mtDNA. The genome encodes for 13 mRNA (green), 22 tRNA (violet), and 2 rRNA (pale blue) molecules. There is also a major noncoding region (NCR), which is shown enlarged at the top in blue. The major NCR contains the heavy strand promoter (HSP), the light strand promoter (LSP), three conserved sequence boxes (CSB1-3, orange), the H-strand origin of replication (OH), and the termination-associated sequence (TAS, yellow). The triple-stranded displacement-loop (D-loop) structure is formed by premature termination of nascent H-strand DNA synthesis at TAS. The short H-strand replication product formed in this manner is termed 7S DNA. A minor NCR, located approximately 11,000 bp downstream of OH, contains the L-strand origin of replication (OL).
Figure from: Falkenberg, M. (2018) Essays Biochem 62(3):287-296
---
A dedicated DNA replication machinery is required for its maintenance. Mammalian mtDNA is replicated by proteins distinct from those used for nuclear DNA replication and many are related to replication factors identified in bacteriophages. DNA polymerase γ (POLγ) is the replicative polymerase in mitochondria. In human cells, POLγ is a heterotrimer with one catalytic subunit (POLγA) and two accessory subunits (POLγB). POLγA belongs to the A family of DNA polymerases and contains a 3′–5′ exonuclease domain that acts to proofread the newly synthesized DNA strand. POLγ is a highly accurate DNA polymerase with a frequency of misincorporation lower than 1 × 10−6. The accessory POLγB subunit enhances interactions with the DNA template and increases both the catalytic activity and the processivity of POLγA. The DNA helicase TWINKLE travels in front of POLγ, unwinding the double-stranded DNA template. TWINKLE forms a hexamer and requires a fork structure (a single-stranded 5′-DNA loading site and a short 3′-tail) to load and initiate unwinding. Mitochondrial single-stranded DNA-binding protein (mtSSB) binds to the formed ssDNA, protects it against nucleases, and prevents secondary structure formation
The most accepted model of DNA replication in the mitochondria is the strand displacement model (Figure 25.1.24). Within this model, DNA synthesis is continuous on both the H- and L-strand. There is a dedicated origin for each strand, OH and OL. First, replication is initiated at OH and DNA synthesis then proceeds to produce a new H-strand. During the initial phase, there is no simultaneous L-strand synthesis and mtSSB covers the displaced, parental H-strand. By binding to single-stranded DNA, mtSSB prevents the mitochondrial RNA polymerase (POLRMT) from initiating random RNA synthesis on the displaced strand. When the replication fork has progressed about two-thirds of the genome, it passes the second origin of replication, OL. When exposed in its single-stranded conformation, the parental H-strand at OL folds into a stem–loop structure. The stem efficiently blocks mtSSB from binding and a short stretch of single-stranded DNA in the loop region therefore remains accessible, allowing POLRMT to initiate RNA synthesis. POLRMT is not processive on single-stranded DNA templates. After adding approximately 25 nucleotides, it is replaced by POLγ and L-strand DNA synthesis is initiated. From this point, H- and L-strand synthesis proceeds continuously until the two strands have reached full circle. Replication of the two strands is linked, since H-strand synthesis is required for initiation of L-strand synthesis. DNA Ligase III is used to complete the ligation of the newly formed DNA strands.
During DNA replication, the parental molecule remains intact, which poses a steric problem for the moving replication machinery. Topoisomerases belonging to the type 1 family can relieve torsional strain formed in this way, by allowing one of the strands to pass through the other. In mammalian mitochondria, TOP1MT a type IB enzyme can act as a DNA "swivel", working together with the mitochondrial replisome. Furthermore, replication of circular DNA often causes the formation of catenanes, or interlocked circles that need to be separated from one another. The type 1A topoisomerase, topoisomerase 3α (Top3α), is required to resolve the hemicatenane structure that can form during mtDNA replication.
Figure 25.1.24 Replication of the human mitochondrial genome. Mitochondrial DNA replication is initiated at OH and proceeds unidirectionally to produce the full-length nascent H-strand. mtSSB binds and protects the exposed, parental H-strand. When the replisome passes OL, a stem–loop structure is formed that blocks mtSSB binding, presenting a single-stranded loop-region from which POLRMT can initiate primer synthesis. The transition to L-strand DNA synthesis takes place after about 25 nt, when POLγ replaces POLRMT at the 3′-end of the primer. Synthesis of the two strands proceeds in a continuous manner until two full, double-stranded DNA molecules have been formed.
Figure from: Falkenberg, M. (2018) Essays Biochem 62(3):287-296
---
Curiously, not all replication events initiated at OH continue to full circle. Instead, 95% are terminated after about the first 650 nucleotides at a sequence known as the termination associated sequences (TAS) (Figure 25.1.23). This creates a short DNA fragment known as the 7S DNA, that remains bound to the parental L-strand, while the parental H-strand is displaced (Figure 25.1.23). As a result, a triple-stranded displacement loop structure, a D-loop, is formed. The functional importance of the D-loop structure is unclear and how replication is terminated at TAS is also not known.
25.1.6 Telomeres and Replicative Senescence
The End Replication Problem
In humans, telomeres consist of hundreds to thousands of repetitive sequences of TTAGGG at chromosomal ends for maintaining genomic integrity. Because the DNA replication is asymmetric along double strands, RNA pimer sequence at the 3′-hydroxyl end cannot be replaced by DNA polymerase I, as there is no 3'-OH primer group present for the polymerase to extend the DNA chain. This causes the loss of 30–200 nucleotides with each DNA replication and cell division and is known as the end replication problem. Telomeres provide a repetitive noncoding sequence of DNA at the 3′ end to prevent the loss of critical genetically encoded information during replication. Moreover, telomeres are coated with a complex of six capping proteins, also known as shelterin proteins, which are packed into a compact T-loop structure that hides the ends of the chromosomes. This prevents the DNA repair machinery from mistaking chromosomal ends for double-stranded DNA breaks (Figure 25.1.25). Therefore, telomeres have been proposed as a mitotic clock that measures how many times a cell has divided and in essence, gives a cell a defined lifetime.
Image (A) by: MBInfo and Image (B) by: Thomas Splettstoesser
---
The human telomerase enzyme is responsible for maintaining and elongating telomeres and consists of an RNA component (TERC) and a reverse transcriptase (TERT), that serves as the catalytic component (Figure 25.1.26). The TERT uses the TERC as a template to synthesize new telomeric DNA repeats at a single-stranded overhang to maintain telomere length (Figure 25.1.26). Some cells such as germ cells, stem cells, hematopoietic progenitor cells, activated lymphocytes, and most cancer cells constitutively express telomerase and maintain telomerase activity to overcome telomere shortening and cellular senescence. However, most other somatic cells generally have a low or undetectable level of telomerase activity and concomitantly limited longevity. Interestingly, overall telomerase activity decreases with age, but increases markedly in response to injury, suggesting a role for telomerase in cellular regeneration during wound healing. The telomere length and integrity are regulated through the interplay between the telomerase and shelterin proteins.
Figure 25.1.26 Conceptual Model of Telomerase Activity. The active site of the telomerase enzyme contains the RNA template, TERC (shown in red) and aligns with the last few telomeric bases at the end of the chromosome (shown in blue). This creates a single stranded overhang that can be used as a template by the TERT reverse transcriptase to extend the telomere sequence.
Figure by: Abbexa Ltd.
---
In vivo, shortened telomeres and damaged telomeres generally caused by reactive oxygen species (ROS) are usually assumed to be the main markers of cellular aging and are thought to be the main cause of replicative senescence. In vitro, telomeres loose approximately 50–200 bp at each division due to the end-replication problem. Approximately 100 mitoses are thought to be sufficient to reach the Hayflick limit, or the maximum number of mitotic events allowed prior to entering replicative senescence. Cells in continual renewal, such as blood cells, compensate for telomere erosion by expressing telomerase, the only enzyme able to polymerize telomeric sequences de novo at the extremity of telomeres. Knocking out telomerase components, such as the catalytic subunit (TERT) or the RNA template (TERC), induces several features of aging in mice. In humans, germline mutations in telomerase subunits are responsible for progeroïd syndromes, such as Dyskeratosis congenita, a rare genetic form of bone marrow failure. Furthermore, healthy lifespan in humans is positively correlated with longer telomere length and patients suffering from age-related diseases and premature aging have shorter telomeres compared with healthy individuals. An accumulation of unrepaired damage within telomeric regions has also been shown to accumulate in aging mice and non-human primates, suggesting that damage of telomeres with age may also be contributing to age-driven disease states and reduced healthspan.
Thus, one could argue that the activation and expression of telomerase may be a way of reducing age-related diseases and increasing overall longevity. However, the constitutive expression of telomerase, unfortunately, is a characteristic of almost all cancer cells. It is therefore, no surprise that transgenic animals over-expressiong the catalytic subunit of telomerase (mTERT), develop cancers earlier in life. However, overexpression of telomerase in mice that are highly resistant to cancers has shown large increases in median lifespan and significantly reduced age-associated disorders. Since humans are not highly resistant to cancer, this is not a feasible option for humans. However, additional studies in mice, where constitutive expression of telomerase is only introduced into a small percentage of host cells using adenovirus gene therapy techniques has yielded more promising results. Adenoviruses are a group of viruses that form an icosahedral protein capsid that houses a linear double stranded DNA genome. Infections in humans typically cause symptoms of the common cold and are usually mild in nature. These are a good target for gene therapy, as the DNA that they carry can be mutated, so that they are deficient in their ability to replicate once they have infected the host. They can also be transformed to carry a gene-of-interest into the host, where that gene can then integrate into the host genome. Experiments in mice that were infected with an adenovirus carrying the mTERT gene showed that mTERT was delivered to a wide range of tissues within the body, and increased telomere length within those tissues. Furthermore, the mTERT expressing mice were healthier than their litter mates and displayed a reduction in disabling conditions associated with physiological aging such as osteoporosis and insulin resistance (Figure 25.1.27). Cognitive skills and metabolic functions were also improved. Noticeably, mice treated with gene therapy did not have increased incidence in cancer rates, suggesting that in at least the short-lived mouse species, that a gene therapy approach to increased telomerase activity is safe. Within these animals, median lifespan was increased by 24% when animals were treated at 1 year of age, and by 13% if treated at 2 years of age.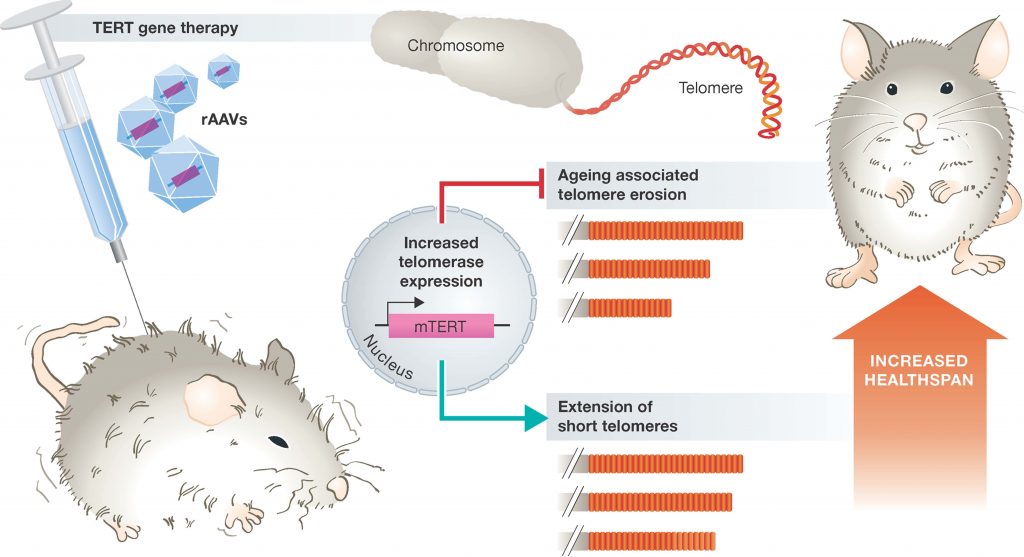 Figure 25.1.27 Promoting Healthspan in Mice using a Telomerase Gene Therapy. Delivery of the catalytic subunit of telomerase (TERT) using a modified adenovirus vector (rAAV) suppresses aging associated telomere erosion and extends short telomoeres in a variety of tissues. Consequently, animals display improved healthspan and extended lifespan.
Figure from: Boccardi, V. and Herbig, U. (2012) EMBO Mol Med 4:685-687.
---
Replication and Repair of Telomere Sequences
In addition to the end replication problem, telomeric DNA (telDNA) replication and repair is a real challenge due to the different structural features of telomeres. Firstly, the nucleotidic sequence itself consists of an hexanucleotidic motif (TTAGGG) repeated over kilobases, with the 5′-3′ strand named the "G-strand" due to its high content in guanine. During the progression of the replication fork, the lagging strand, corresponding to the G-strand, forms G-quadruplex (G4) structures, which have to be resolved to allow fork progression and to complete replication (Figure 25.1.28a). Secondly, R-loops corresponding to highly stable RNA:DNA hybrids, involving the long non-coding telomeric transcript TERRA (telomeric repeat-containing RNA) also have to be dissociated. Thirdly, the extremity of telomeres adopts a specific loop structure, the T-loop, which has to be unraveled. This is the loop that hides the double strand end from the DNA damage sensors, and is locked by the hybridization of the 3′ single strand overhang extremity with the above 3′-5′ strand, thereby displacing the corresponding 5′-3′ strand to form a D-loop (displacement loop) structure (Figure 25.1.28a). Lastly, replication also has to deal with barriers encountered elsewhere in the genome, such as torsions and a condensed heterochromatic environment.
Figure 25.1.28 Obstacles and solutions to replicate telomeres. (a) Telomeric sequence, with the G-strand in solid red line and the C-strand in solid green line, is depicted. The terminal D-loop structuring the much larger T-loop is stabilized by the shelterin complex. The replisome (PCNA, pol ε, etc) polymerizes a new G-strand (depicted in dotted red line) and frees the parental G-strand, enabling the formation of G4 secondary structure. R-loops corresponding to TERRA hybridization (in dotted black lines) with the 3'-5' strand, and torsions due to the fork progression are also shown. (b) Replication helpers, such as helicases, either helping in G4 unwinding or in D-loop unlocking are depicted. The DNAses (Top2a, DNA2) and RNAses (RNAse H1 and FEN1) help in resolving torsions and RNA:DNA heteroduplexes, while Timeless stimulates the replisome and POT1 competes with RPA1 for binding of the single-strand and helps in G4 dissolution. The shelterin components, POT1, TRF1 and TRF2 help in loading the helper-proteins (fine green arrows)
Figure from: Billiard, P. and Poncet, D.A. (2019) Int J. Mol. Sci. 20(19) 4959
---
Since telomeres face a host of obstacles to completing the replication process, as discussed in Figure 25.1.28, the cell possess a set of specialized machinery to fully achieve their replication, such as the RTEL1, TRF1, and TRF2 proteins, DNAses, RNAsses, and Timeless. The recruitment of these factors is orchestrated by the shelterin complex.
At the molecular level, the GGG telomeric repeats are particularly sensitive to ROS, which produce stretches of 8-oxoguanine that are especially difficult to repair. Coupled with inefficient telomere repair, these ROS-induced lesions produce single and double-strand breaks, and/or generate replicative stress, ultimately resulting in telomere shortening. The presence of unrepaired single or tandem 8-oxoguanine drastically inhibits the binding of TRF1 and TRF2, and impairs the recruitment of telomerase, especially when ROS damage is localized in the 3′ overhang. This type of damage contributes to telomere deprotection and shortening. Strikingly, ROS (and other metabolic stresses) also induce the relocation of TERT to mitochondria, as observed (i) in primary neurons after oxidative stress; (ii) in neurons exposed to the tau protein; (iii) in Purkinje neurons subjected to excitotoxicity; and (iv) in cancer cell lines treated with a G4 ligand. Mitochondrial TERT increases the inner membrane potential, as well as the mtDNA copy number, and decreases ROS production with a protective effect on mtDNA. Mitochondria are also critical sensors of cellular damage and contribute to the processes of autophagy and apoptosis (programmed cell death). The relocalization of TERT following chromosomal damage in the nucleus, may indicate one mechanism the mitochondria utilizes to monitor cellular stress and damage.
---
Mastering the Content
Which of the following is the enzyme that replaces the RNA nucleotides in a primer with DNA nucleotides?
DNA polymerase III

DNA polymerase I

primase

helicase
[reveal-answer q="628075″]Show Answer[/reveal-answer]
[hidden-answer a="628075″]Answer b. DNA polymerase I is the enzyme that replaces the RNA nucleotides in a primer with DNA nucleotides.[/hidden-answer]
Which of the following is not involved in the initiation of replication?
ligase

DNA gyrase

single-stranded binding protein

primase
[reveal-answer q="820951″]Show Answer[/reveal-answer]
[hidden-answer a="820951″]Answer a. Ligase is not involved in the initiation of replication.[/hidden-answer]
Which of the following enzymes involved in DNA replication is unique to eukaryotes?
helicase

DNA polymerase

ligase

telomerase
[reveal-answer q="650146″]Show Answer[/reveal-answer]
[hidden-answer a="650146″]Answer d. Telomerase is unique to eukaryotes.[/hidden-answer]
Which of the following would be synthesized using 5′-CAGTTCGGA-3′ as a template?
3′-AGGCTTGAC-4′

3′-TCCGAACTG-5′

3′-GTCAAGCCT-5′

3′-CAGTTCGGA-5′
[reveal-answer q="429167″]Show Answer[/reveal-answer]
[hidden-answer a="429167″]Answer c. 3′-GTCAAGCCT-5′[/hidden-answer]
The enzyme responsible for relaxing supercoiled DNA to allow for the initiation of replication is called ________.
[reveal-answer q="855893″]Show Answer[/reveal-answer]
[hidden-answer a="855893″]The enzyme responsible for relaxing supercoiled DNA to allow for the initiation of replication is called DNA gyrase or topoisomerase II.[/hidden-answer]
Unidirectional replication of a circular DNA molecule like a plasmid that involves nicking one DNA strand and displacing it while synthesizing a new strand is called ________.
[reveal-answer q="378861″]Show Answer[/reveal-answer]
[hidden-answer a="378861″]Unidirectional replication of a circular DNA molecule like a plasmid that involves nicking one DNA strand and displacing it while synthesizing a new strand is calledrolling circle replication.[/hidden-answer]
More primers are used in lagging strand synthesis than in leading strand synthesis.
[reveal-answer q="25479″]Show Answer[/reveal-answer]
[hidden-answer a="25479″]True[/hidden-answer]
Why is primase required for DNA replication?

What is the role of single-stranded binding protein in DNA replication?

Below is a DNA sequence. Envision that this is a section of a DNA molecule that has separated in preparation for replication, so you are only seeing one DNA strand. Construct the complementary DNA sequence (indicating 5′ and 3′ ends).DNA sequence: 3′-T A C T G A C T G A C G A T C-5′

Review Figure 1 and Figure 2. Why was it important that Meselson and Stahl continue their experiment to at least two rounds of replication after isotopic labeling of the starting DNA with15N, instead of stopping the experiment after only one round of replication?

If deoxyribonucleotides that lack the 3′-OH groups are added during the replication process, what do you expect will occur?
---
25.1.7 References
Parker, N., Schneegurt, M., Thi Tu, A-H., Lister, P., Forster, B.M. (2019) Microbiology. Openstax. Available at: https://opentextbc.ca/microbiologyopenstax/
Principles of Biochemistry/Cell Metabolism I: DNA replication. (2017, August 6). Wikibooks, The Free Textbook Project. Retrieved 19:07, October 31, 2019 from

en.wikibooks.org/w/index.php?title=Principles_of_Biochemistry/Cell_Metabolism_I:_DNA_replication&oldid=3259729.

Kaiser, G.E. (2015) Prokaryotic Cell Anatomy. Community College of Baltimore County. Available at: http://faculty.ccbcmd.edu/~gkaiser/SoftChalk%20BIOL%20230/Prokaryotic%20Cell%20Anatomy/nucleoid/nucleoid/nucleoid3.html
The RCSB PDB "Molecule of the Month": Inspiring a Molecular View of Biology D.S. Goodsell, S. Dutta, C. Zardecki, M. Voigt, H.M. Berman, S.K. Burley (2015) PLoS Biol 13(5): e1002140. doi: 10.1371/journal.pbio.1002140
Wikipedia contributors. (2020, May 7). Helicase. In Wikipedia, The Free Encyclopedia

. Retrieved 13:38, June 9, 2020, from

en.Wikipedia.org/w/index.php?title=Helicase&oldid=955303097

Windgassen, T.A., Wessel, S.R., Bhattacharyya, B., and Keck, J.L. (2017) Mechanisms of bacterial DNA replication restart. Nuc Acids Res 46(2):504-519. Available at: https://www.ncbi.nlm.nih.gov/pmc/articles/PMC5778457/
Xu, Z-Q., Dixon, N.E. (2018) Bacterial Replisomes. Curr Opin Struct Biol 53:159-168. Available at: https://www.sciencedirect.com/science/article/pii/S0959440X18300952

Liu, B., Eliason, W.K., and Steitz, T.A. (2013) Structure of a helicase-helicase loader complex reveals insights into the mechanism of bacterial primosome assembly. Nature Comm 4:2495. Available at:

https://www.researchgate.net/publication/256764134_Structure_of_a_helicase-helicase_loader_complex_reveals_insights_into_the_mechanism_of_bacterial_primosome_assembly
Xu, Z-Q., and Dixon, N.E. (2018) Bacterial Replisomes. Curr Op Struc Biol 53:159-168. Available at: https://www.sciencedirect.com/science/article/pii/S0959440X18300952
Fernandez-Leiro, R., Conrad, J., Scheres, S.HW., and Lamers, M.H. (2015) cryo-EM structures of the E. coli replicative DNA polymerase reveal its dynamic interactions with the DNA sliding clamp, exonuclease and τ. eLife 4:e11134. Available at: https://elifesciences.org/articles/11134
Ekundayo, B. and Bleichert, F. (2019) Origins of DNA replication. PLOS 15(12): e1008556. Available at: https://journals.plos.org/plosgenetics/article?id=10.1371/journal.pgen.1008320
Leman, A.R., and Noguchi, E. (2013) The replication fork: understanding the eukaryotic replication machinery and the challenges to genome duplication. Genes 4(1): 1-32. Available at: https://www.ncbi.nlm.nih.gov/pmc/articles/PMC3627427/
Doublié, S. and Zahn, K.E. (2014) Structural insights into eukaryotic DNA replication. Front. Microbiol. 5:444. Available at: https://www.frontiersin.org/articles/10.3389/fmicb.2014.00444/full
Billard, P., and Poncet D.A. (2019) Replication stress at telomeric and mitochondrial DNA: Common origins and consequences on ageing. Int J. Mol Sci 20(19):4959. Available at: https://www.mdpi.com/1422-0067/20/19/4959/htm
Yeh, J-K., and Wang, C-Y. (2016) Telomeres and telomerase in cardiovascular diseases. Genes 7(9)58. Available at: https://www.mdpi.com/2073-4425/7/9/58/htm
Boccardi, V. and Herbig, U. (2012) Telomerse gene therapy: a novel approach to combat aging. EMBO Mol Med 4:685-687. Available at: https://www.embopress.org/doi/epdf/10.1002/emmm.201200246
Wikipedia contributors. (2020, April 26). Cyclin-dependent kinase. In Wikipedia, The Free Encyclopedia

. Retrieved 18:52, June 30, 2020, from

https://en.Wikipedia.org/w/index.php?title=Cyclin-dependent_kinase&oldid=953307433

Falkenberg, M. (2018) Mitochondrial DNA replication in mammalian cells: overview of the pathway. Essays Biochem 62(3):287-296. Available at:

https://www.ncbi.nlm.nih.gov/pmc/articles/PMC6056714/
Folwer, S., et. al. (2013) Concepts of Biology. Openstax. Available at: https://openstax.org/details/books/concepts-biology?Book%20details

Aleem, E. and Arceci, R.J. (2015) Targeting cell cycle regulators in hematologic malignancies. Frontiers in Cell and Developmental Biology 3(16). Available at:

https://www.researchgate.net/publication/275354547_Targeting_cell_cycle_regulators_in_hematologic_malignancies